One day Workshop at the Pastel Society of America
Capture the rhythm and movement of dance in your work by using quick gesture-drawings and long poses in pastel, charcoal, and watermedia. This workshop will focus on line and broad strokes to create form and the illusion of movement. We will be working from life, using a live dancer as the model, accompanied by music. This two-day workshop will focus on the figure, Individual attention and feedback will be given to each student and is suitable for both beginners and advanced artists.
Registration and information:
Pastel Society of America
National Arts Club
15 Gramercy Park South
New York, NY 10003
Phone: 212-533-6931
Fax: 212-353-8140
E-mail: psaoffice@PastelSocietyofAmerica.org
www.PastelSocietyofAmerica.org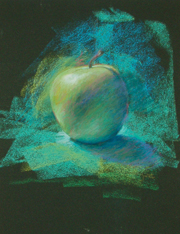 Green Apple
pastel
19 x 15 inches

This class is aimed at all levels and is an ongoing once a week class for those that want to learn how to draw, improve their skills, and use pastel.
The class will cover the fundamentals of drawing, composition, color theory, underpainting and measuring. Subjects covered will be drawing, value: light and shadow, identifying 'shadow patterns', basic perspective. In addition to this, techniques for drawing glass and pattern will be demonstrated and taught.
Classes is every Tuesday evening at 5.30pm.
Please call office

Class registration and information:
Pastel Society of America
National Arts Club
15 Gramercy Park South
New York, NY 10003
Phone: 212-533-6931
Fax: 212-353-8140
E-mail: psaoffice@PastelSocietyofAmerica.org
www.PastelSocietyofAmerica.org

Please call beforehand.
Fees & Registration:
6 Classes $160;
Individual Classes $40 (subject to change without notice).

Nearest Transit:
14th St (4, 5, 6)
23rd St (4, 6)

Click here for PSA Class Materials List