Please come visit the show, comprising over 180 works of art in the Lower Gallery.

Reception: Wednesday, October 4, 6-9pm
Exhibition dates: September 25, 2017 - October 27, 2017
Opening times: Mon-Fri 1-8PM, Sat & Sun 1-5PM Address:

Salmagundi Club, 47 Fifth Ave @ 12th Street, New York, NY 10003 212.255.7740

Auctions are on three Fridays at 8PM:
1st Auction: Oct. 6, 8 pm
2nd Auction: Oct. 20, 8 pm
3rd Auction: Oct. 27, 8 pm
---
"Reflection"
Pen, ink & oil, 20 x 16
3rd Auction: Oct. 27, @8 pm
Opening Bid $400. Lot #162
"The Stocking",
Pen, ink & oil, 6x6,
2nd Auction:, Oct.20, @8 pm.
Opening Bid $175. Lot #112
---
"Stripes in the Garden"
Pen, ink & oil, 20 x 16
1st Auction: Oct. 6, @8 pm
Opening Bid $400. Lot #46


Liz and the thread of flight, pastel,
40x45 inches
Connecticut Pastel Society presents Purely Pastel at The Lyme Academy College of Fine Arts.
June 15 - July 21, 2017 - closed
Liz and the thread of flight, will be on display at The 2017
CPS Purely Pastel Juried Member Exhibition
Opening reception June 15, 2017 5-7pm
At The Chauncey Stillman Gallery
Lyme Academy College of Fine Arts
84 Lyme Street Old Lyme, CT.
06371 (860) 434-5232.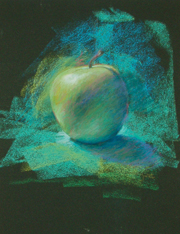 Green Apple
pastel
19 x 15 inches

This class is an ongoing once a week, Tuesday evening class aimed at both those that want to learn how to draw and use pastel, as well as artists that want to learn how to use the pastel medium.
Fees & Registration:
6 Classes $160;
Individual Classes $40
(subject to change without notice).

Class registration and information:
Pastel Society of America
National Arts Club
15 Gramercy Park South
New York, NY 10003
Phone: 212-533-6931
Fax: 212-353-8140
E-mail: psaoffice@PastelSocietyofAmerica.org
www.PastelSocietyofAmerica.org

Please call beforehand.

Nearest Transit:
14 St (4, 5, 6)
23 St (6)

Click here for PSA Class Materials List
The class will cover the fundamentals of drawing, composition, color theory, underpainting and measuring. Subjects covered will be drawing, value: light and shadow, identifying 'shadow patterns', basic perspective. In addition to this, techniques for drawing glass and pattern will be demonstrated and taught.